CSP Survey: L2 Business Services and 5G xHaul
What technologies and networking requirements will be needed to power enterprise services post-pandemic?
To gain insight into the new normal for today's communications services, we surveyed 100 executives around the world.
The results gave us a clear indication of the pulse of the telecoms and access solutions market post-COVID-19.
1 Gbit connectivity is no longer enough to sustain business needs, and in terms of buying criteria, quality of service matters far more to today's CSPs than traditional differentiators such as price point. If carriers want to succeed – they must find new ways shorten time to cash and gain greater visibility and control over their customer experience.
Looking for the true voice of the carrier in 2021? Let this report be your guide.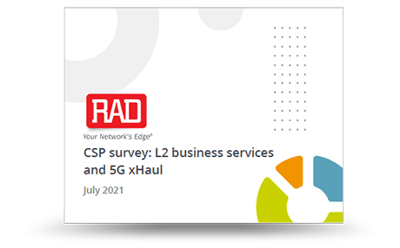 What's in the report?
Customer required speeds, 2020/2021
Ethernet access device buying criteria
Top EAD use cases
100G availability for L2 business services
Root causes of service calls
Typical time-to-cash
Top challenges delivering L2 business services
Key attributes of new business services
Cell site gateway (CSG) selection criteria for 4G/5G Top challenges delivering 5G xHaul wholesale service