IIoT Gateway Platform Solutions

RAD's 3-time IoT Evolution Award Winner, the SecFlow industrial IoT gateway is a highly-secure, programmable IoT edge computing platform. As an all-in-one solution, it offers powerful capabilities to enable fast IIoT deployments:
HAZLOC-certified (Class 1, Division 2) for installation in hazardous locations

Multiprotocol support with SCADA protocol conversion: Modbus, DNP3, BACnet, MQTT
LTE router + PLC + Industrial PC in a single device
Built-in LoRaWAN server
Connects over any media: GbE copper and fiber, serial, Power over Ethernet (PoE)
Single or dual cellular mode, dual SIM
SCADA firewall IPS/IDS, stateful firewall IPsec, OpenVPN and PKI, Anomaly Detection
IEC 61850-3, IEEE 1613 and EN 50121-4


Download our guide and learn more about how to choose the right IIoT gateway
What's in the guide?
From PLC and SCADA to MQTT IoT
How to Use Edge Computing in Industrial IoT
IoT Connectivity: LPWAN, LoRaWAN and eSIM
Industrial IoT Gateway Use Cases and Deployment Options
What Can RAD Do for Your Industrial IoT Project?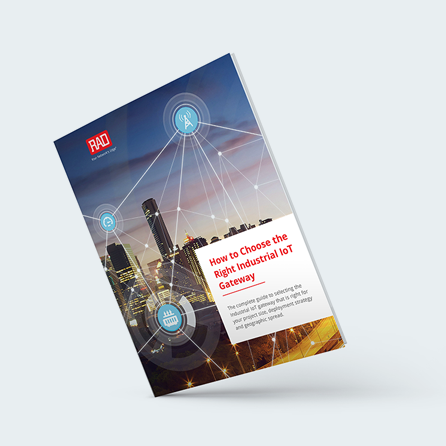 Secflow Product Family Features
SecFlow-1v
Secure IIoT Gateway with Edge Computing

H: 157.2 mm (6.19 in) W: 82.8 mm (3.25 in) D:150 mm (5.9 in)
Edge Computing
Copper/SFP Ethernet ports
POE
Serial RS232/RS485
Protocol Gateway - DNP3 and T101-104, MB-RTU/MB-TCP
Cellular Connectivity: Dual modem, dual SIM, LTE
Static Routing, OSPF, BGP
Security & VPN: IPsec, AES-128, AES-256, PKI X509 SCEP server support
Management: Syslog, SNMPv3 Traps, HTTPS
SecFlow-1v-PLC
Secure IIoT Gateway with PLC and

Edge Computing

H: 146 mm (5.74 in) W: 91.2 mm (3.59 in) D:132.6 mm (5.22 in)
Edge Computing
PLC software
Copper/SFP Ethernet ports
POE
Serial RS232/RS485
Protocol Gateway - DNP3 and T101-104, MB-RTU/MB-TCP
Cellular Connectivity: Dual modem, dual SIM, LTE
Static Routing, OSPF, BGP
Security & VPN: IPsec, AES-128, AES-256, PKI X509 SCEP server support
Management: Syslog, SNMPv3 Traps, HTTPS
SecFlow-1v-LoRa
Secure Outdoor LoRaWAN Gateway with Edge Computing

H: 157.2 mm (6.19 in) W: 82.8 mm (3.25 in) D:150 mm (5.9 in)
Edge Computing
LoRa Server
Copper/SFP Ethernet ports
POE
Serial RS232/RS485
Protocol Gateway - DNP3 and T101-104, MB-RTU/MB-TCP
Cellular Connectivity: Dual SIM, LTE
Static Routing, OSPF, BGP
Security & VPN: IPsec, AES-128, AES-256, PKI X509 SCEP server support
Management: Syslog, SNMPv3 Traps, HTTPS
"We believe that the innovation in RAD's solutions provides a perfect fit to our Metro-I offering. It allows us to use powerful technology to create a cohesive environment where security and safety are managed in a collaborative and analytical manner."
Leave your information and we will be in contact shortly to help you determine the best IIoT solution for your application